Here's a great example:
A typical hotel credit card. The bonus amounts on this one seem higher than most! Good deal?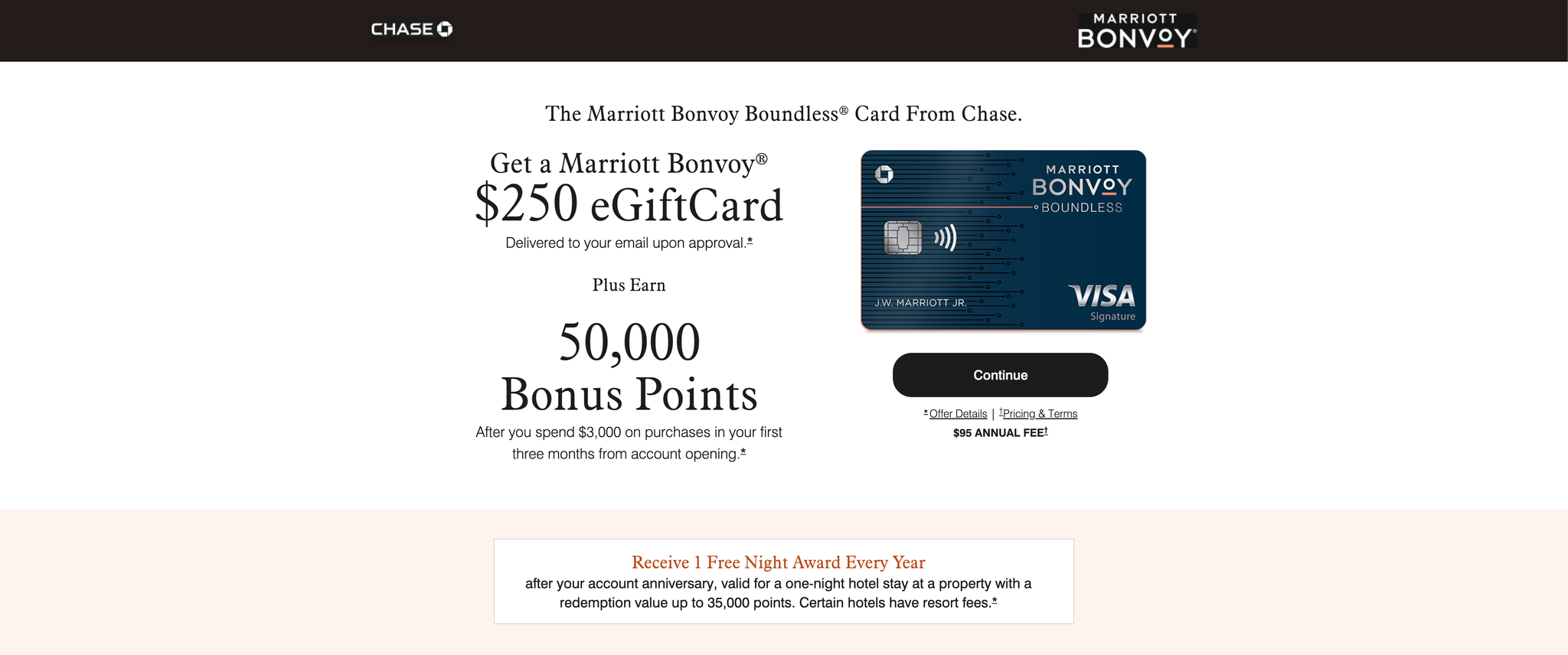 Let's analyze the rewards:
How much $ do you get back from purchases?
A point is worth 0.5 - 1 cents credit on their website.
You get 1¢ for everyday purchases, 1.5¢ for gas, and 5¢ for purchases of Marriott hotel stays.
This seems to be a very common credit card bonus amount.
However, most cards give you actual cash. Watch out for the ones that are not redeemable 1:1 for cash. Because these bonuses are only credits for their website, it's not as good.
You'll see this is not even worth considering when you start shopping for hotels on their site. The 5¢ per dollar bonus is in practice a 5% loyalty discount. Unfortunately, when you go to buy a hotel using points, they mark up the price by 10%. So you're actually paying 5% more, not less!
How much $ do you get initially?
$250 - credit to their website
Plus 50,000 points - worth $250-$500 on their website
Total $500-$750 credit
How much $ do you get per year?
Up to 35,000 credits. This is roughly $175. It is indeed a one night stay, but at a nice hotel. However, the annual fee is $95. Total you keep is $80 / year
Is it worth getting?
YES!
✅ For signing up, and staying in for a year and half, you get at least $600 in hotel credit.
🤨 Then an extra $80/year credit to their hotels starting after 2 years. If you like Marriott (they're great hotels), then that's great. But it's nothing impressive.
🚫 Unfortunately, using this card day-to-day (even at Marriott.com) is not worth the hassle.
Is it worth keeping long term?
Yes if you will prefer to stay at Marriott hotels. Otherwise no.
This type of deal is an easy few hundred bucks! Redeem your points, then cancel the card!
If you will occasionally stay at Marriott hotels anyway, then keep it and get little perks every year.
Actually, they're pretty great!
Marriott is a huge network of hotels. There are so many to choose from!
The prices are very much the same as other brands. Usually not much higher or lower.
The quality of hotels seems reliably good. All the hotels look nice and modern, have comfortable amenities, and even the bad reviews don't seem to mention anything cringy.
Marriott.com
is one of the best hotel search websites I've used. Plenty of filters and options. Fast.
Here's another deal from the same company:
It may simplify things for you… or not.
The trick is - you get 3 free nights. So how much that's worth depends. Towards each night you get a maximum of 50,000 points.
A modest 1br king suite for 2 adults and 2 kids within quick driving distance to Chicago — goes for 50,000 on a cheaper weekend, and 90,000 on an expensive weekend. However, if you're paying with points, the dollar price of each night gets a bit more expensive, so on a popular weekend, you may only get 50% off each night.
If you're single or a couple, then you can stay basically anywhere. 50,000 points per night will get you a very good hotel in most places.
In total, this can be worth $750! Or only $500 if you can't use the credits efficiently.
There's also the "free" hotel stay every year. Same deal as the previous card.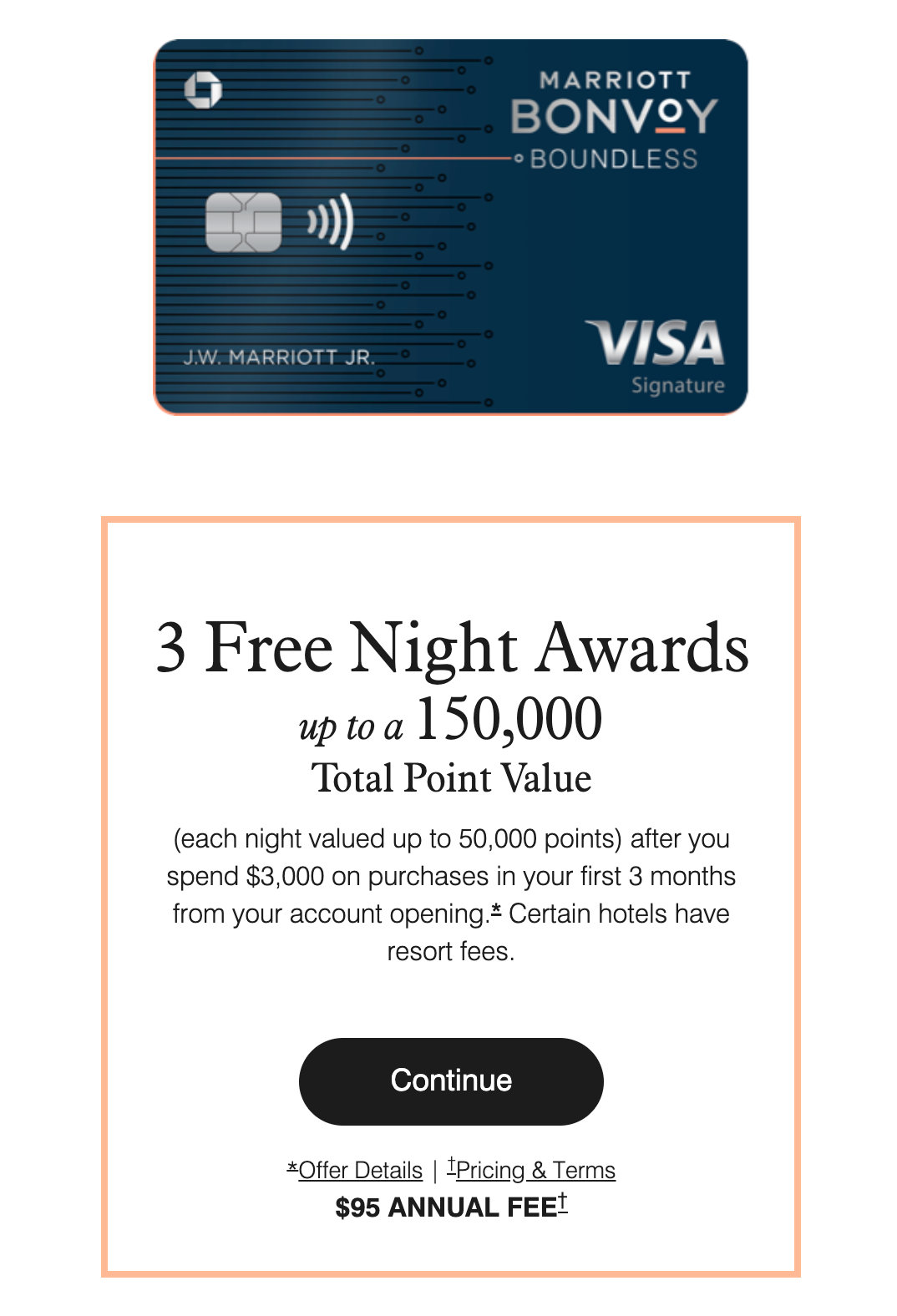 Is this worth getting over the first one? They both pay the same bonus amount. It just depends on which redemption rules work best for you.
What about other hotel cards?
It really depends. Some are great. Others do not justify they're annual fee.
You'll just have to do the math and apply it to your life.
Why did I bother writing this?
I just bought a Marriott hotel suite for a weekend in the summer. They advertised the card to me. I'm usually not a fan of bonus points that are not real cash, but only website credits, but this one seemed like a deal too good to pass up — especially because I was able to apply the first $250 bonus to the trip I was about to buy anyway! And, their rates were about the same as any other hotels or Airbnbs I looked at. So now I'm getting a free trip! 😄
So other than being thankful, I'm not affiliated with Marriott in any way.
But also, I do keep thinking about what marketable skills I have. Maybe writing is one of them?
What do you think about all this? Have you recently found a great deal? Please share! Thank you.