Best centralized options for residents of USA (residents of most other countries should just use
Binance.com
or
FTX.com
).
Decentralized options below.
Easiest to use:
robinhood.com
- Expensive "spread" fees for "market" orders. Good rates when using "limit" orders however, but still not "free". Not recommended because they do not support any of the newer coins with newer (more relevant) technology. Also, their app tends to stop working at times of unusually high volatility. It might leave you watching the value of your coin falling off a cliff without letting you sell.
uphold.com
- Very high spread fees of 1-3% each time you buy and sell, so not recommended!! They have all the rare coins however (including XRP, which you would otherwise not find in USA exchanges).
altoira.com
- Very high fees of 1.5% each time you buy and sell! Low monthly fee though, so OK if you just buy the coin once and hold on to it for years. But unless you already practiced being a HODLer, you will not have such self control! ;) Roll your IRA/401k money into their custody, and trade crypto with your retirement funds! Others have very high monthly fees.
Get into day trading, swing trading, technical analysis:
Binance.us
- Sort of an average between
FTX.us
and
Kraken.com
, with equally poor selection of coins, and similar features and limitations. Worth trying. Maybe you'll like it. Intuitive and easy to use interface. Does not have Solana like FTX.us. Not quite as fast as Kraken.
FTX.us
- Cheap fees. Great user interface, app, and the best charts. Easy to use, and great for technical analysis too. No leverage if you trade less that $100,000, so don't be fooled by that claim. Not many coins, but they do support some great new ones like Solana. They do not have as much liquidity as other exchanges, so be prepared to wait for your limit order to execute, and to cancel/resubmit the order. Recommended for infrequent traders, if they have the coins you want.
Primary benefit:
charts and technical analysis are the best, both for desktop and mobile
Biggest limitations:
liquidity is poor (you might be waiting a while for a limit order, and have to change the price)
does not have Cardano (ADA) or Polkadot (DOT), or many others
Kraken.com
- Cheap fees, and allows you to use leverage (up to 3x for beginners). Their regular site and dashboard are very bad and confusing, but don't be turned off. Go to
trade.kraken.com
, or click their "chart" button on the top right. It's a good app with nice charts and volume numbers. Their app and charts are not as good as FTX.us, but they have much better liquidity (your limit trades execute much faster and more reliably).
Primary benefit:
fast cheap trades (good liquidity)
allows leverage and short options (and makes it easy to make and track such orders)
Biggest limitation:
charts are not as good as FTX, especially for technical analysis. However, it does have a better visualization of volume, and better charts for short-term prices and movements.
does not have Solana (SOL), or a few others
user interface is not buggy, but by design is awkward and sometimes frustrating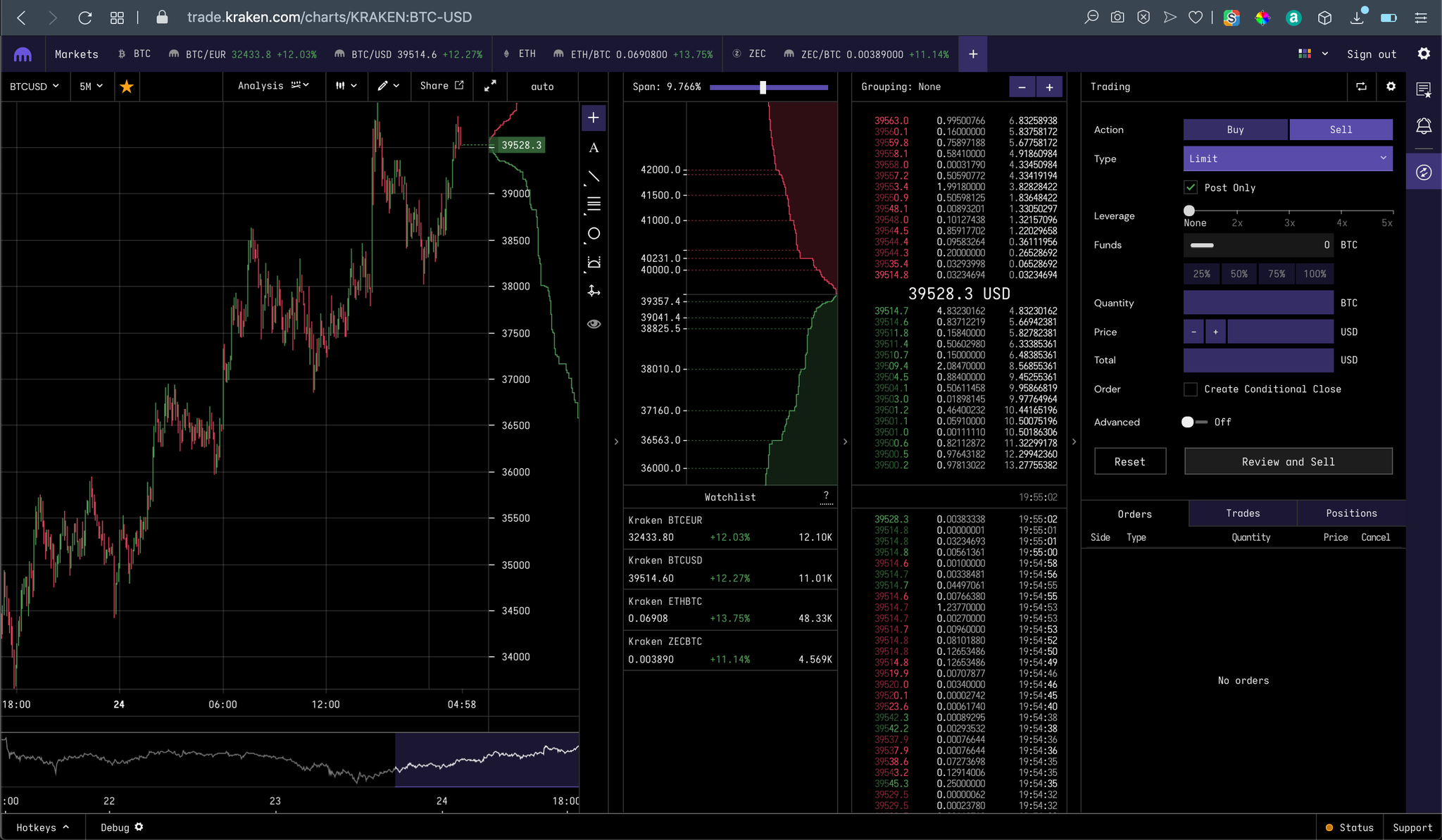 Decentralized - most powerful way to trade:
Get yourself a "wallet". Withdraw money from a trading platform to it. Or, upload money to it from a Bitcoin ATM, or from somebody else's wallet. It uses a unique address (QR code) to deposit/withdraw.
Use Uniswap or similar decentralized exchange to exchange for different cryptocurrencies. Fees are the lowest here, because it's a non-profit open-source community-run app, and Uniswap is not managing your money but only facilitating the transaction. This is the most recommended way to use Cryptocurrencies. This is decentralized. You hold your own coins. And, almost all new coins are available to trade. However, Uniswap is not a great trading/techical-analysis interface. It is a simple "swap X amount of A for similar amount of B".
With this system, if you want to stop investing and sell your coins, you would exchange them not for US Dollars as in a centralized regular exchange, but for a digital version of USD called Tether, or $USDT. This is also a cryptocurrency, but its value does not fluctuate but is always equal to $1.
For the HODLERS:
Get a "hardware wallet" if you want to be 100% sure nobody can take away your money, or even track it. However, a software wallet on your phone is probably private enough (it does not collect personal information), and it is much easier to use. However, then you're trusting some 3rd party organization, which goes against the cryptocurrency philosophy.
Use a "Bitcoin ATM" to deposit cash. They'll need your phone number for upto $900, and state ID for upto $3000. I don't know how well the IRS tracks this. They do take a minimum 8% spread fee + crypto transaction fee. So, this is not recommended unless you want to hide your money $900 at a time.
The most secure, cheap, and private way to do it however, is in person, trading cash for crypto, using _____________, which is just a website, like Craigslist or Meetup.com, to help you find and meet up with other crypto enthusiasts.